Media Transcoder WAN Workflow
WAN Workflow
Media operations dealing with more demanding projects, fewer personnel, smaller budgets, and more responsibilities now have a solution to the challenge of getting more work done with less. Interplay's new WAN workflows connect distributed facilities to each other and link remote contributors to the facility – enabling broadcast and postproduction teams at any location to be more productive by sharing resources, saving time, accessing more media, and collaborating over any distance. Organizations using Interplay can extend the workgroup to everyone with the same capabilities (and more productivity) whether in the office, at a partner facility, or out on the road.
With Interplay, no matter how many team members, departments or facilities need to access media, they can – no matter where in the world they are.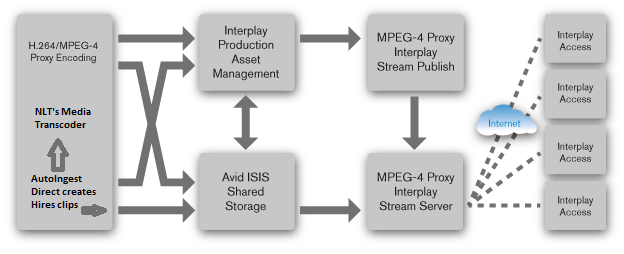 Flexible workflows over the WAN
Interplay Access connected to a facility over the Internet gives producers, assistants, journalists and others freedom of movement. Because your people aren't tethered to the facility, individuals and teams can be wherever the production takes them. And by using Avid Interplay to share operations with separate facilities or sister stations, the same is now true of your assets as well.
Separate groups sharing operations. Distributed organizations, such as television groups and affiliates, news and promotions bureaus, or studios and production companies with a finishing facility, often seek to lower costs by consolidating portions of their production operations. Now they can do this – and expand the projects they take on – with an Interplay system serving as a centralized hub for both local and partner sites. A feature developed in one location could easily draw upon assets gathered at other sites; for instance, coverage of a candidate, athlete or dignitary in a national event at one location might include material stored at another site, showing the same person in exclusive local footage captured long before the story went nationwide. Or broadcasters that commonly air finished stories from their affiliate stations can now access all the material associated with a project, edit and finish it with their own local editorial appeal, and benefit from the originating station's newsgathering.
Up to 100 simultaneous users can log into any number of multiple workgroups, utilize and share media assets from any of them, and drive intelligent transfers between connected organizations. And all using lower-cost, standard-issue laptops, generic LAN or WAN connectivity, and a 1Mbit VPN.
Individuals working remotely. Journalists covering stories are on the road every day, facing the challenge to get the editors the material they need to edit the package, or get to the live shot on time. A remote Interplay Access workflow minimizes time and distance constraints and makes it possible to do both. A journalist can review proxy footage captured into the Interplay system from the shoot earlier, while logged in from a WiFi connection miles away. The journalist can then log the footage, place locators on the material to identify specific shots, mark in and out points to create a series of subclips, and combine these subclips into a shotlist. Instantly, when the editor at the television station opens the corresponding high-res media in an Avid editing system, the shotlist with all subclips, locators and annotations will remain intact and the editor can finish the package and prepare it for air.
The journalist can also launch a transfer of the high-res elements of the shotlist to another site using Interplay Delivery from within the same simple interface – for instance, to send the material to a sister station creating a VOSOT of the story for its newscast.
Access Features
The first WAN video client for Interplay Production, Access allows remote access to the Interplay workgroup from any location worldwide. With a 1Mb/s or higher VPN connection to the facility, using either a Mac or a PC, up to 100 remote contributors can work with high quality H.264 media proxies anytime, anywhere. Log into multiple workgroups at the same time, get a global view of your assets, and drive intelligent background transfers between workgroups – without sacrificing productive time, and without distance constraints.
How it Works
Publish and serve: Any MPEG4 media found by Interplay Stream Publish is published via QuickTime file-wrapper conversion to Interplay Stream Server, where it's streamed on demand by any Interplay Access client on the LAN or WAN that requests it. Metadata added to the proxy by Interplay Access is available on the version stored in the Interplay workgroup and to editors who use it.
Use existing systems. Interplay Access is a cross-platform application for any standard Mac OSX or Windows laptop or desktop, needing just a 1 megabit VPN connection to the Interplay Stream server. It doesn't need a direct connection to Avid storage or even a particular video card configuration, as long as it supports QuickTime media player software. Base client hardware configuration is a common CPU with 2 GHz Intel processor with 1 GByte of RAM.
Deliver to any location. Getting the shotlist or subclip media to where it needs to be from the field is a key part of Interplay's WAN proxy workflow. From the Interplay Access software client UI, a WAN or LAN-connected client can set up and trigger Interplay Delivery to make full or partial transfers of any media associated with subclips and shotlists – even define which resolution gets sent – to make sure editors at any location have what they need to finish the project.
Maximize infrastructure. Forget dragging down your real-time high-performance systems with too much traffic on the video network. Interplay Access utilizes tiny 1Mbps proxies – and since it's connected over the LAN or WAN, they never collide with the high-res media. Add up to 100 clients with a single streaming server without slowing anyone down.
More formats = new workflows. Any format and resolution supported by Interplay can be transcoded to the MPEG-4 proxy browse resolution, while its versions are tracked as a single assets and all metadata added is associated with the original. You can move logging and reviewing tasks for even your most processor-intensive projects out to lower-cost systems – without taking up valuable edit suite time – and maintain the metadata as though the project never moved.