Certified Nearchive Plugin for MediaCentral | UX
Sending or restoring content to external HDD Arrays or Media Libraries has never been easier with the Avid MediaCentral | UX solution from Avid and NLTek. The Avid CERTIFIED and LICENSED NEARCHIVE PLUGIN for MediaCentral | UX (beginning with V2.3) allows an integrated approach to sending or restoring content from Nearchive. Immediately archive assets with a simple right click menu, no new tools or software to learn - users can begin using NLT's Nearchive immediately. Realtime job status is displayed directly in the MediaCentral | UX layout by a new user selactable pane called Nearchive.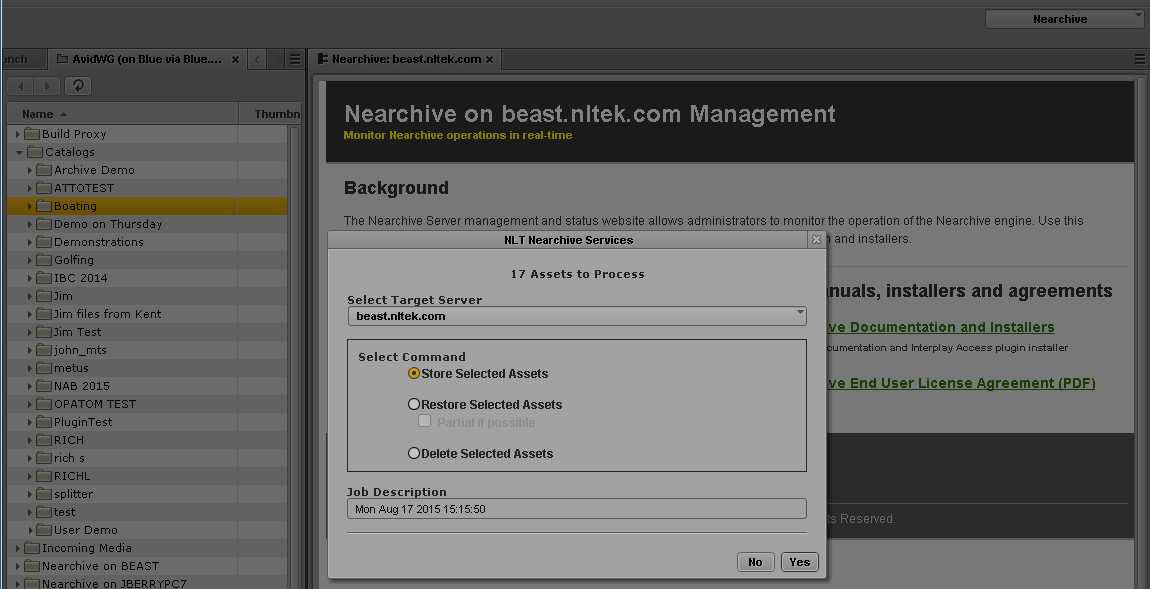 The Avid Certified Nearchive Plugin for MediaCentral | UX allows users to move content to or from the Nearchive storage. The plugin is installed on the MediaCentral | UX Server. Using MediaCentral's GUI, search for assets or simply browse for assets in a folder, once found select the clips and send them to the Nearchive using a simple right click method. This triggers a media transfer at speeds up to forty times faster than normal play speed using common gigabit ethernet networks.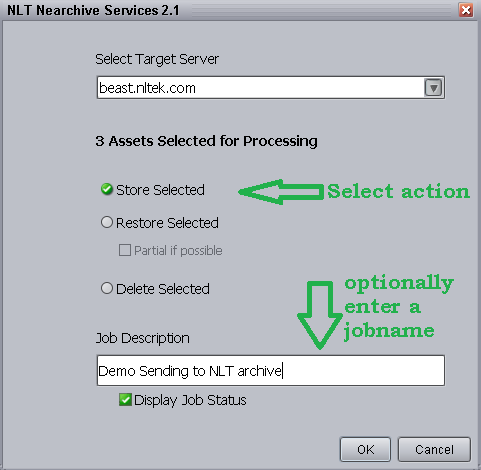 Three Nearchive Functions
Store - send any asset to Nearchive's external storage, select an asset then right click (selecting Nearchive Services - STORE). No further action is required by the operator, the clip will remain on the Nearchive storage until specifically deleted. The clips metadata is retained in the Interplay database so that it can be searched for (even after the user has deleted the clip's MXF media and the metadata from Interplay).
Restore - select an asset to be restored then right click selecting (Nearchive Services - RESTORE). The media will be restored to the workspace it was originally located in.
Delete - locate any clip using Interplay Access. Then right click selecting (Nearchive Services - DELETE). The media will be deleted from the Nearchive storage. Deleting the asset from Nearchive does not delete media from Avid Shared Storage. However the clip is no longer available to be restored from the Nearchive storage.
Use Interplay Administrator to Configure Nearchiver Servers
Use Avid's Interplay Administrator to allow Interplay User Groups access to select Nearchive Server features - allow general access or only permit use by users in certain Interplay User Groups. Configure the Nearchive Server with Interplay using the Interplay Administrator function Site Settings / NLT Nearchive Settings.
Configure as many Nearchive servers as required for your Interplay environment.